Last Updated on March 27, 2023 by ClassMonitor
We've often heard many questions about phonics from parents. So in this blog, we are answering your queries.
What is Phonics for Kindergarten?
Phonics is a style of learning the relationship of sounds spoken to written letters.
In kindergarten, teachers use phonics to help children learn the sounds of alphabet letters. It turned out as a great exercise to teach letter sounds in languages like English, Arabic, and Russian. Before phonics, educators used to recite ABC to children.
Do you wonder why phonics is important in the early years of child education?
Why is Phonics Important?
Teaching phonics helps children learn about phonemic awareness.

It helps to know the links between 2 sounds, and how to speak them together.

It improves your child's spelling and reading ability.

It trains your kid to decode complex words, & how to pronounce those words easily.
How to Teach Phonics to Kindergarten?
Phonics is used across primary schools, including Montessori, as it's best for children's literary education.
Nowadays, teachers introduce phonics in a variety of ways to students. These are a few of the tricks phonics teachers use in kindergarten.
1. Phonics Sounds
The first step of learning phonics starts with knowing the sounds of each letter.
Show your kid an alphabet letter and say the sound it represents. You can follow the ABCD sequence or else start by teaching phonic sounds of vowels, then introduce consonants to your kid.
You can take help from this video below.
2. Synthetic Phonics
Once your kid knows the sounds of all the alphabet letters, move on to the next step.
Show your child some easy words and let him decode the words. Help him read a word by speaking the phonic sounds for each letter. Then say those letters in sequence to make the complete sound of that word. Like, take the word 'Pat'. Say 'pp', take a pause, and say 'a' then 'tt'.
Repeat speaking these 3 sounds until you cut the pause and make it a coherent sound for the word 'pat'. This is the classic and joyful method for your child to practice phonics.
3. Sight words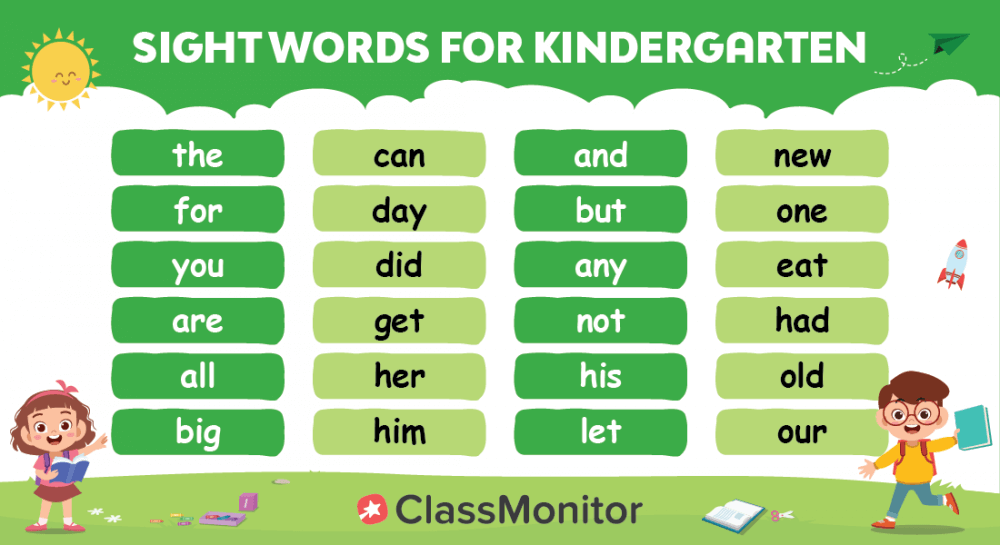 So what are Sight Words in phonics?
High-frequency or sight words are the most commonly spoken words in a language. Words like – "the, a, you, so, is and it" are a few examples of sight words.
Teachers encourage kids to learn those words by sight. As learning sight words helps children to recognize these words at a glance. Later, it increases the reading speed by reducing the energy on words that your kid already knows by sight.
4. Blends in Phonics
What are blends in phonics? Blends is another method of decoding a large group of words that sounds somewhat similar. For instance, black, blow, blue, and blame are examples of consonant blends that have the same prefix 'bl'. Learning by blends gives cognitive ease to your child's brain and helps him learn multiple words at a time.
You'd find many types of blends like consonant blends, ending blends, beginning blends, etc.
You will find many activities for teaching Word Blends in our phonics kit.
5. Word Family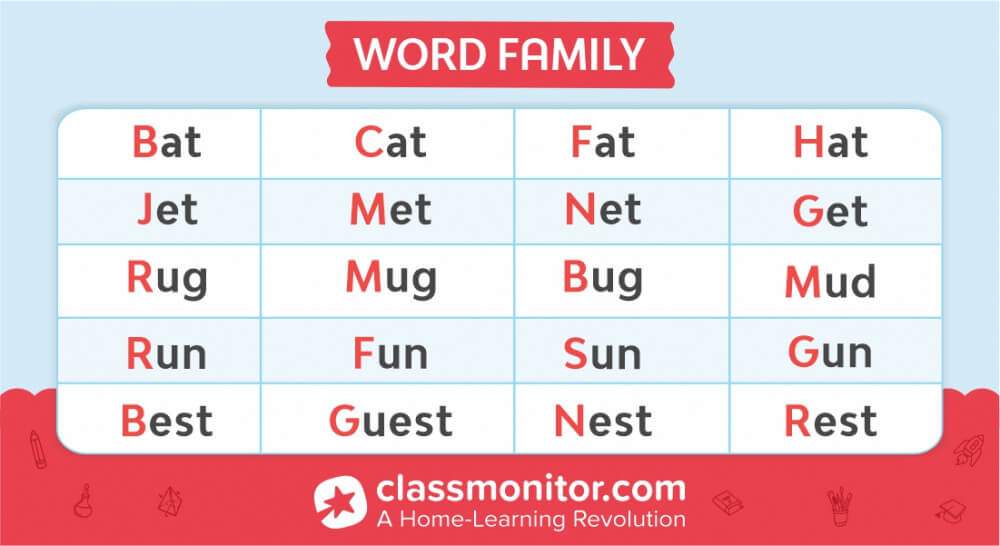 Now you may ask what is the word family in phonics?
So a Word family is a group of words that not only sound similar but also share the same pattern of letters in their prefixes or suffixes. For example, words like mop, hop, top, stop, etc. are a few examples of the 'Op' pattern.
Learning how to say the pattern of a word family will help your kid learn many words within the family.
6. Phonics Activities
There're a lot of ways you can teach phonics at home, but the best is to integrate fun activities into your kid's learning. We even wrote a complete blog on phonic activities for kids at home. You'd find many easy-to-implement phonics activities to try with your kid.
What are Phonics Classes by ClassMonitor?
Phonics classes are phonic programs for kids that either run physically or short live sessions using a phone/laptop. These classes are conducted by teachers who have years of expertise in teaching phonics to kids of different ages.
Phonics classes are hyped these days, but is it worth it for your kid?
Yes, it is if you pick the right class.
When phonics classes are taken by expert teachers, they cover everything from the basics to getting concepts into practice. Classes that are designed to be fun & interactive will help your child ace reading and writing skills. Also, to make your kid active in the class, teachers set up fun activities to engage your kid.
These are the benefits of our live phonic classes for your kid
A complete phonics course from basic to advanced levels

Recorded sessions, in case your kid skips a class

24×7 assistance for parents, if they need any help with the class

Certificate after completion
The big benefits!
Make your kid a fluent reader once he completes the course

You kid get our best-selling phonic kit for free that includes 99+ learning resources like worksheets, flashcards, AR cards, board games, puzzles, and much more.
Want to Know more about ClassMonitor's Live Classes?